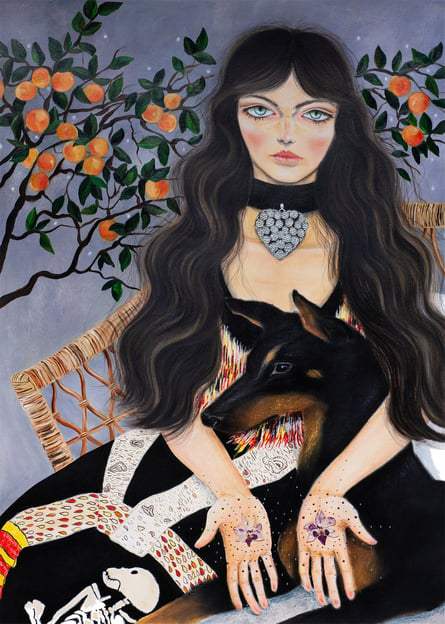 Mixed media painting with glued crystal details on paper. Features Dior Resort 2018 colection dress and Alessandra Rich heart pendant chocker.

Original painting is for sale.
Comes with a certificate of authenticity.

Dimensions unframed: 65x90 cm | framed: 110x85 cm
2020

1200 EUR (framing and shipping in Lithuania included)
Available as a Giclée print on high quality 290 gsm FineArt paper. Soft, lightly textured felt structure is very familiar to the paper the original painting was created on.

Print dimensions: 50x70 cm (with extra 5 cm white border).
Signed and numbered by hand.
Comes in a tube.
129 EUR

For more purchasing information please send an email or use a form in the contact section.

In this painting I created a dual being - it is both a woman as a mother and the embodiment of loss. At the time I was creating this picture, I had just lost my grandmother. This experience has led me to think about human definiteness and what becomes really important at a crucial moment. I created a female character who is made to give and to sacrifice unconditionally. The symbolic Dior dress offers an allusion to life – a newborn or passed - while the dog plays the role of a guardian of the main character stretching her palms open to the viewer, as if intending to give everything away. Although this character is not alone in the painting, the cold colour of the background and the glass heart (designer Alessandra Rich) suggest that the feeling of loneliness and closure is no stranger to this character.
No part or content of this site may be reproduced, distributed, or otherwise used, without the prior written permission of Martyna Jan.